KAURI
37' Pacific Proa

designed by Russell Brown

featured in Wooden Boat Magazine
July/August, 1988, Issue #83
RUSSELL BROWN and His PROVEN PROAS

video





---

Pacific proa KAURI and friends, under sail, 01:22
Sailing KAURI off West Falmouth in Buzzard's Bay, Cape Cod, 1987
Russell Brown, John York, Porter Thompson, Joseph Oster (cameraman), and others
---
PREQUEL: Sailing proa KAURI to Wood's Hole, MA
, 01:47
Sailing KAURI to Wood's Hole, MA - prequel to following video, this clip had no sound so added a little music.

notes about "hobby horsing" observed in this video: a few things should be remembered; it happened under some conditions, not all; there are eight people and "cargo" in this video; KAURI was designed and built circa 1980, JZERRO, twelve years later, has a different hull shape.

frame by frame examination shows exactly three cycles of pitching between 13.2 and 17.2 seconds, a frequency of 1.33 seconds/cycle (0.75 cycles/second), with an amplitude of +- 2.1 degrees, as measured between these two frames (14.15 and 15.03):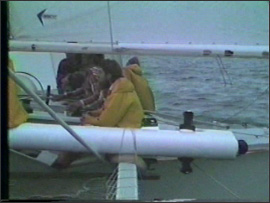 ---

Sailing proa KAURI through Wood's Hole, MA, 09:55
Sailing KAURI through strong tidal current in Wood's Hole, MA, delivering base of Ocean Surfer's mast, broken in a yard accident before launch, back to Martha's Vineyard for repair.
Leisurely shunt footage at 0:50, moving mylar headsail to opposite end, main sheeted and under way at 01:12, headsail raised and sheeted around 02:22 - NOTE: a speedy shunt is done with a jib on both ends; this day wasn't that kind of a "show", as we had only one jib of this size.
---
Navigating Woods Hole
"Tricky in the best conditions, with little margin for error. [the current] routinely flows through at over 4 knots, and will hit 7 knots on occasion."
---
JZERO of Polygor, 1977 - photos by Craig Bumgarner
KAURI: Photos, text, and video! 37' proa on Martha's Vineyard, 1989 by Joseph Oster
Park It, Dad by Jim Brown - Russell and Jim sail KAURI from Bermuda to New England

*Sep, 2011

CIMBA (re-named Pacific Bee in 2008) and JZERRO
CIMBA becomes Areté, Chiloé Island, Chile

*Feb, 2020

JZERRO Construction Photos Port Townsend, WA 1992 by Joseph Oster
JZERRO Mexico Photos... 36' Pacific proa, Baja California (Mexico)
a sailing 'push me-pull you' JZERRO article by Andy Turpin, Latitude38
JZERRO "doing about 20 knots" on S.F. Bay, passing Profligate,
Dave Culp and Joseph Oster visible on bench seat, Latitude38
Photos! Sailing JZERRO on San Francisco Bay (at Shutterfly.com)
Russell Brown, Jim Antrim and Joseph Oster, June, 2000
Russell Brown on Proas interview w/ John Harris at clcboats.com
"Jzerro will reach at 17 or 18 knots in 12 knots of wind."
Observations on Pacific proas by Russell Brown, 3 Sep 2011
JZERRO haul out Dec 2013, Port Townsend, WA
JZERRO on video
Pacific Proa Jzerro in Port Townsend - September 2012
Jzerro underballasted and hard on it
Proa Jzerro September, 2011
sailing 17.8 knots on auto-pilot! 720p HD *posted May, 2011
sailing 17.8 knots on auto-pilot! & sailing past lighthouse *posted July, 2008 (not HD)
Jzerro in Port Townsend 2015, at 18 knots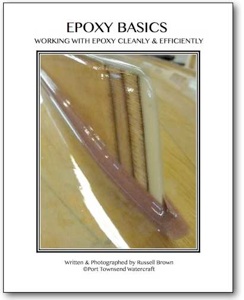 EPOXY BASICS:

WORKING WITH EPOXY CLEANLY & EFFICIENTLY
by Russell Brown