KAURI
37' Pacific Proa

by Russell Brown

featured in Wooden Boat Magazine
July/August, 1988, Issue #83
RUSSELL BROWN and His PROVEN PROAS









Helm Station

A truss box beam suspended to weather between the crossbeams and supporting the mast base. All controls lead to this centralized location including rudder up/downhauls.
Two separate steering levers, each connected to respective rudders by aluminum poles. The rudder on the port bow is visible in the raised position (as it would be on port tack).
A continuous red line passes each steering lever and enters the interior where it is connected to a conventional electronic autopilot for tillers. The red line is normally engaged only to the aft tiller/rudder in the lowered position and easily disengaged from both.
Headsail halyards for each bow share the same winch on the mast.
A continuous mainsheet attached at each end to the end of the boom passes fore and aft around the mast base winches and leads through two movable fairleads at each end of the boat: 1) on a special spar that brings the boom parallel to the centerline (pictured in Helm Station photo) and 2) outboard to leeward for letting the boom out parallel to the crossbeams.
Carpet attached to mast with simple yoke on boom that rotates 180 degrees each tack.
Motor mount and fuel cans to weather of mast base; lowers 20 HP outboard to water.
Chimney for wood stove.
Knife pockets near hatch for cutting away jammed lines quick!




Wood Stove!

Below decks, a comfortable wood stove keeps things cozy through bitter New England winters.
The red line below the hatch and fire extinguisher attaches to the electronic autopilot (left of photo) and to the steering levers outside.
The bench seat has access hatches for storage below.
The table folds down against the leeward side of the boat (the blue air mattress is on the main double berth in the lee "pod").
The bulkhead beyond the table gives access to storage, head, etc.





Main Hull

View towards starboard bow.
Double berth lee pod on left with stove (tea kettle) at one end.
Galley sink on right, below and "forward" of main hatch.
Sprout grower above sink.
Folding single seat attached to left (leeward) side
Navigation and comm station forward of main bulkhead, one of two primary bulkheads showing attachment bolts for crossbeams.
Smaller access hatch in forward bulkheads make bows watertight when under way.
Main sail stored on cabin sole for winter haulout.
---
---
---
"But Dad, I don't think I want anybody else to have a boat like this.
I mean, it requires such a total commitment to such an oddball concept...
I just don't want to be responsible for sending other people to sea
in such a... Such a... Thing."
-- Russell Brown,
Park It, Dad
,
Chapter 18 of Jim Brown's "Among the Multihulls, Vol. 2"
---
JZERO of Polygor, 1977 - photos by Craig Bumgarner
Park It, Dad by Jim Brown - Russell and Jim sail KAURI from Bermuda to New England

*Sep, 2011

CIMBA (re-named Pacific Bee in 2008) and JZERRO
JZERRO Construction Photos Port Townsend, WA 1992 by Joseph Oster
JZERRO Mexico Photos... 36' Pacific proa, Baja California (Mexico)
a sailing 'push me-pull you' JZERRO article by Andy Turpin, Latitude38
JZERRO "doing about 20 knots" on S.F. Bay, passing Profligate,
Dave Culp and Joseph Oster visible on bench seat, Latitude38
Photos! Sailing JZERRO on San Francisco Bay (at Shutterfly.com)
Russell Brown, Jim Antrim and Joseph Oster, June, 2000
Russell Brown on Proas interview w/ John Harris at clcboats.com
"Jzerro will reach at 17 or 18 knots in 12 knots of wind."
Observations on Pacific proas by Russell Brown, 3 Sep 2011
JZERRO haul out Dec 2013, Port Townsend, WA
JZERRO on video
Pacific Proa Jzerro in Port Townsend - September 2012
Jzerro underballasted and hard on it
Proa Jzerro September, 2011
sailing 17.8 knots on auto-pilot! 720p HD *posted May, 2011
sailing 17.8 knots on auto-pilot! & sailing past lighthouse *posted July, 2008 (not HD)
Jzerro in Port Townsend 2015, at 18 knots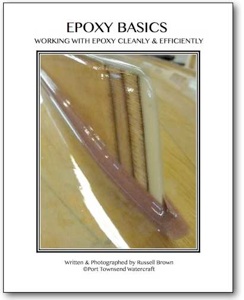 EPOXY BASICS:

WORKING WITH EPOXY CLEANLY & EFFICIENTLY
by Russell Brown