At sea it quickly becomes apparent that no other single factor contributes more to safety, speed, and comfort than waterline length.

The unique weight-distribution characteristics of the Pacific proa with the smaller, lighter hull to weather, give it the longest possible waterline for any given weight and rig!

Compared to similar catamarans, trimarans, and monohulls, the Pacific proa configuration stretches the same materials, rig and associated costs into a sailboat that is 64% longer!!!

The typical Pacific proa rig would be considered conservative in sail area for other boats the same length, yet is adequate for routine high speeds, occasionally on a single hull flying the small ama to weather.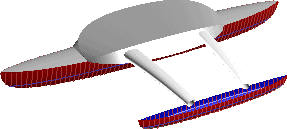 For example, this 21 meter (69 feet) design has accommodation, displacement, sail area and cost very similar to the Venezia 42.
For blue water cruising, the extra twenty-seven feet of waterline(!) on the main hull of the Pacific proa handles 75% to 100% of vessel displacement with ease, resulting in a swifter and more seaworthy sailing yacht.